Share:
---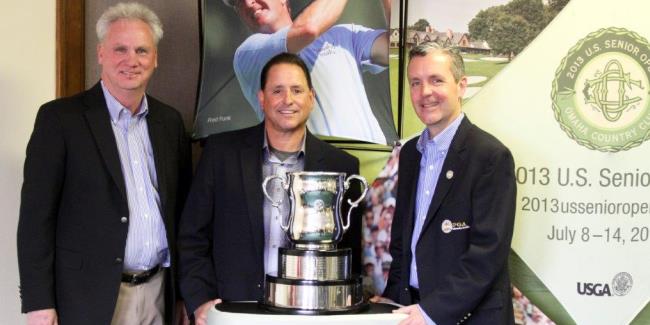 Nebraska Golf Day at the State Capitol
Senator Carlson Partners with Allied Golf Associations to Celebrate 2013 U.S. Senior Open

The state capitol was the sight of a very significant moment in Nebraska golf history as the U.S. Senior Open trophy was on display for a celebration of this event coming to the state July 8th - 14th at famed Omaha Country Club. Senator Tom Carlson from the 38th District in Nebraska partnered with local Allied Golf Associations from the Nebraska Golf Association, Nebraska Golf Course Superintendents Association, the Nebraska Club Managers Association, Nebraska Women's Amateur Golf Association, the Midwest Golf Course Owners Association and the Nebraska Section PGA in celebration of this event.

The 2013 U.S. Senior Open will be broadcast to more than 100 countries, including 16 hours of live television coverage on ESPN and NBC. In addition, it's anticipated that more than 500 media outlets will descend upon Omaha Country Club. More than 150,000 spectators and 3,000 volunteers will gather from all 50 states and around the globe to celebrate this historic moment in Nebraska. Current projections estimate that the economic impact of this event is $30 to $50 million.

The Nebraska Allied Golf Associations recognize that this historic event will have a profound impact on Nebraska's tax revenues, tourism and charitable reach as well. Katy Boggs, Executive Director of the Nebraska Golf Course Superintendents Association, the Nebraska Club Managers Association said, "This historic event will draw the interest of golfers and non-golfers around the Midwest and showcase Nebraska as a golfing destination. We anticipate the success of this event to get people in Nebraska to go out and enjoy all the benefits golf offers. Whether it's playing more with friends or introducing their son or daughter to the game for the first time, this event will have a lasting impact on Nebraska for years to come."

Special thanks to Senator Tom Carlson for sponsoring this event. We would also like to recognize Liz Leckemby, Championship Director of the 2013 U.S. Senior Open, for showcasing the event's trophy.
News Source: Buffalo Communications
Posted April 18, 2013 || Viewed 3,054 times
Share Comment